Hello!
Founded by embroidery artist Laurie Dolhan in 2017, Hook, Line & Tinker embraces creative imperfection and the pure joy of making. We are a busy small-batch, craft production studio designing and selling fabulous, modern embroidery kits. Care for people, respect for the environment, and a deep desire to create something meaningful and real through a shared act of making, are principles firmly embedded into every aspect of our business.

We have BIG love for [small] shops ❤️ Our kits are available in more than 200 lovely, independent retail stores around the world. And of course, you can also find them right here on hooklinetinker.com.
Planet

Our studio is located in Mi'kma'ki, the ancestral and unceded lands of the Mi'kmaq people. As settlers, of Halifax and the world, we make every effort to operate sustainably and with respect for our beautiful planet.

Our kits are PLASTIC FREE. All of our packaging is designed to be lightweight and compact to reduce environmental impacts via shipping. We creatively upcycle production waste when possible.
How it's made
Lots of love goes into each and every kit - so we only produce in small batches in our home-based studio. The coffee is always excellent and the music, or a podcast, is almost always on.
Each piece of preprinted, 100% cotton fabric is cut by hand. We print our own fabric using a very fancy Mimaki TX300P-1800 fabric printer. (AKA, "The Beast")
All our patterns are highly unique originals designed by Laurie Dolhan. The limited colour palette and use of recurring motifs is purposeful - finished hoops hang well as mix-and-match groupings and tell a cohesive story within a theme. Some patterns are easy-peasy first time friendly, others are for ambitious beginners. But all allow for creativity, experimentation, and of course...calm.
They're talking about us!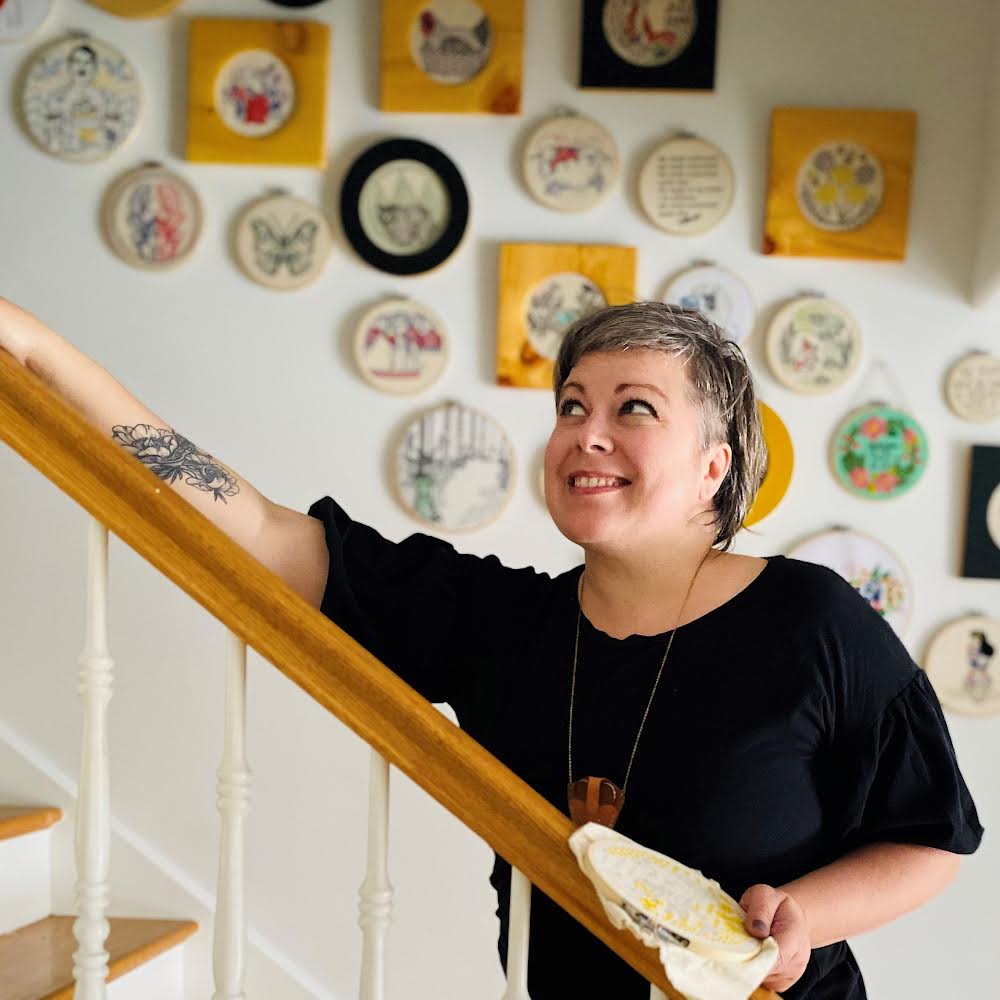 It's me, Laurie!
I never imagined I'd design embroidery kits for a living. But here I am! While I have always been pretty crafty, I had built a tidy career in project management for small businesses, non-profits and government. I started stitching and creating my own designs for fun (and to ease my chronic anxiety) and BAM! I gained both a new passion and a creative business. I'm truly grateful for you.

Thank you "sew" much for being here.
Our Mission
Hook Line & Tinker is committed to fostering joy, calm and creativity while demonstrating care for our planet and community.